Sasha Practices Chinese With Hu Jintao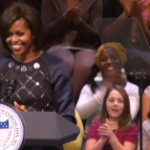 During Chinese President Hu Jintao's visit in January of 2011 the First Family engaged in a variety of events encouraging American's to learn Chinese and participate in various exchange opportunities with China. I enjoyed two great events that were highlighted in the media.
Importance of Studying Abroad (repost from ahachinese) :
On January 21, 2011, the day President Hu Jintao visited the White House, First Lady Michelle Obama spoke at Howard University on the importance of cross-cultural exchange. She and the university were joined by students and educators from Asia Society's Confucius Classrooms Network. [Read More …]
Sasha's Learning Mandarin too: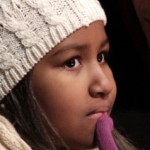 Obama was one of the many words my oldest daughter was speaking at the precious age of two. She could identify Obama on the television and in newspaper articles. I am in awe of the world that she will embrace with the history of having had a Black President. Additionally, it has been wonderful to watch Sasha and Malia growing up in the White House. Therefore, I was also pleased to learn that young Sasha at 9 years of age is also learning Mandarin. This was highlighted during the Chinese President's visit to the White House where she was actually able to speak with him in Chinese.
"Not every [child] has the opportunity to try out their first phrases of Chinese with the president of China, but she had that chance," Ben Rhodes, a White House deputy national security adviser, told a video conference with Chinese bloggers. "She's under 10 years old and they're [her classmates] studying Chinese, and she wanted to have the chance to practice her Chinese with President Hu."
Related posts: