Join Our Mandarin STEaM Club!!
Science and Technology combined with Art & Language … Now we're thinking outside the box!
Every second Saturday of the month PAASSC will host a Mandarin STEaM Club. For those who don't know what STEaM stands for, here's a little break down for you: Science, Technology, art, Engineering and Math. But we are taking it to the next level and including language into the equation. PAASSC is thinking outside of the box and flipping it on it's side to offer your child a fun and unique learning experience.
What is Mandarin STEaM Club?
We had a wonderful showing for our first event of the year. We are really excited about the direction that PAASSC is taking. The children have developed and are developing great and lasting relationships with one another. Our parents are committed and engaged with one another. Moreover, our volunteers are amazing and continuously bring their best to each event.
This year PAASSC presents the Mandarin STEAM Club. This is a great opportunity for our youth to explore Mandarin language skills, critical thinking and self-confidence while engaged in fun, hands on projects.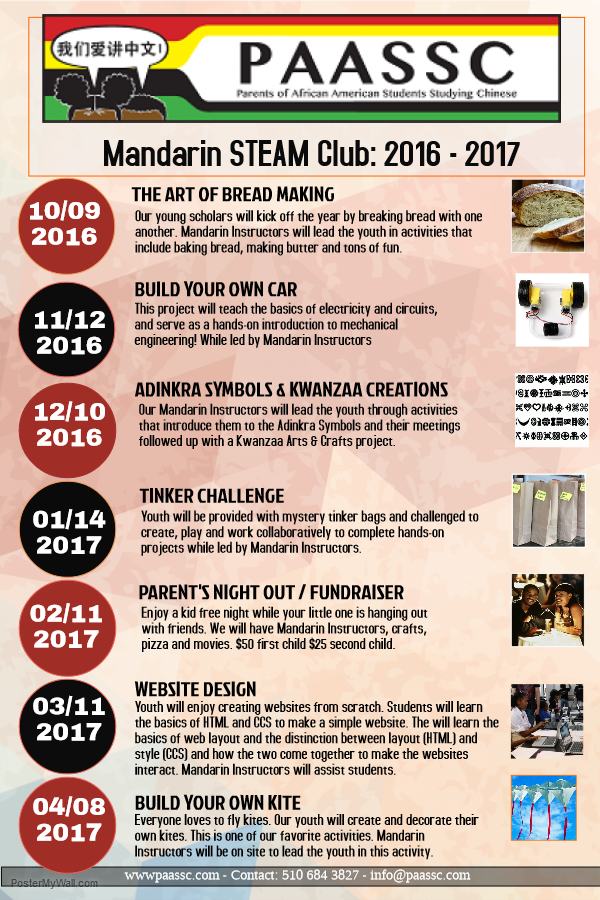 Related posts: