Great African American Chef In Berkeley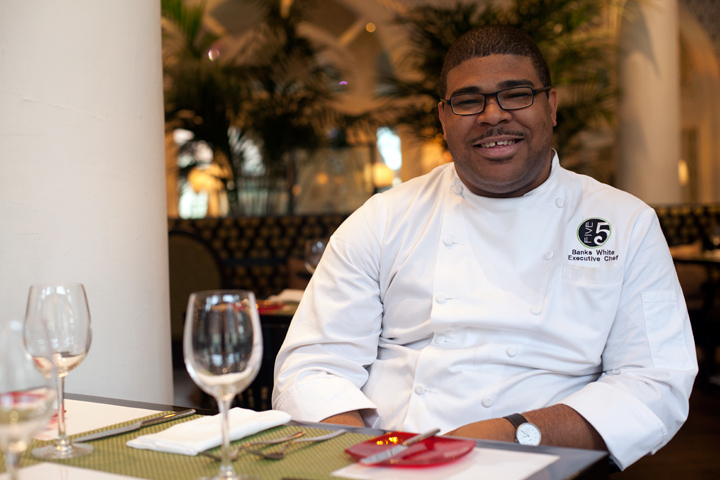 Banks White, executive chef at FIVE at the Hotel Shattuck Plaza in Berkeley, who is leaving to helm the kitchen in a new restaurant in New York City. Photo: Emilie Raguso
(As a Berkeley resident I couldn't help but repost this Berkeleyside article).
Banks White remembers vividly the summer just over four years ago when he took up his post as executive chef at FIVE, the Hotel Shattuck Plaza's restaurant on Allston Way in downtown Berkeley.American Idiot was playing at the Berkeley Rep, Barack Obama was not long installed as president — "there was a real buzz in the city," he said last week, after it was revealed White would be leaving the restaurant and Berkeley.
The Texan — whose resumé includes stints at the Auberge du Soleil and étoile at Domaine Chandon in Napa, and Leftbank Brasserie in Larkspur — is heading to Harlem where he will helm the kitchen of an as-yet-to-be named restaurant. Berkeleyside chatted with White on Friday about his time in the city and his plans going forward.
Tell us about opening FIVE in Berkeley
It's been a great journey. I've called Berkeley my home for six years now. But when FIVE opened in the summer of '09 downtown Berkeley was very different. We were pretty much the only kids on the block [for casual style fine dining]. Venus was there, but Downtown had just closed, and it was pre-Gather and Comal. (Hotel Shattuck's Scott Howard, whom White at met at Leftbank, invited White to help launch the restaurant and oversee menu design, as well as kitchen installation and recipe testing.)
FIVE is known for its "American classics with a modern twist" and your Southern roots also show up on the menu. Talk about how the food at FIVE evolved in your time there.
The menu evolved a great deal over the years. My trips abroad, particularly to South-East Asia, really influenced the dishes we serve. It's a mash up — take our Southern Fried Chicken with Ghanaian peanut sauce. Barbecue is a personal story for me and that comes through in the cured and smoked meats on the menu. In that respect, the restaurant reflects Berkeley which is a huge melting pot of different cultures. The dining room also dictates what you eat. For the past six months we have been focusing on intricate plating — really finding a purpose on the plate.
Related posts: