Can We Compete???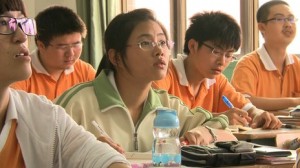 Until recently I had never heard of the Chinese college entrance exam – the Gaokao. The Gaokao consists of two days of testing and it is the ONLY factor that determines if a Chinese student gets to go to college. No other factors are considered – not a student's GPA if they are not strong test takers, not a student's history of community service, personal statement, leadership or athletic accomplishments. Everything about a child's future rests on taking this one test.
Some Chinese families view this test as the only opportunity that a family has to get out of poverty. If a child passes the Gaokao it opens the entire family's door to a better life. This puts a tremendous amount of pressure on everyone – students, teachers, parents, and the school administration. The absolute importance of this exam requires that these children take on a "whatever it takes" attitude in their desire to study hard and to be the best. Clear indicators of the type of Chinese competitive spirit that is often frowned upon here in the states.
Recent images of student's Intravenous (IV) drips being set up in the classroom to help seniors stay hydrated and alert while studying for the exam leaves many American parents speechless. The images include an IV drip in the classroom for each youth so in turn they have no excuses for not studying or more motivation and energy to keep going – depending on your perspective.
According to Global Times, in an interview with local media in Xiaogan city, a teacher from the school surnamed Xia said the pictured students were receiving amino acid drips that would help increase their body strength. "Some students were not feeling well these days due to the bad weather. As the exam is approaching, more students are coming for the IV drip at the clinic than its capacity can hold," the teacher said. "It is for this reason that the school has decided to let students have drips in the classroom."
Everyone recognizes the importance of this test. Every year, police road blocks are set up around schools and nearby construction sites are ordered to fall silent as the country is plunged into two days of "Gaokao fever". The BBC estimates that this year 9.15 million Chinese high school students are taking this notoriously tough university entrance exam. Critics say that for most of them, it is the culmination of a year of cramming, of repeating past papers and in large part, learning by rote. In fact, almost everyone – students, parents, teachers and policymakers – seems to accept that the system is squeezing creativity out of students. But despite the criticism, China's exam machine just keeps on squeezing, and more horror stories emerge each year.
Clearly the competition to get into a prestigious college in China is fierce. So what happens to students who don't pass the Gaokao? Well the look for opportunities to attend college abroad – namely in the United States.
Related posts: