Black Girls CODE Bay Area Chapter Presents: Code A Brighter Future Hackathon
Black Girls CODE is teaming with Colgate to deliver a free girls-only hackathon (6th – 12th grade) as they push young women to "Code a Brighter Future".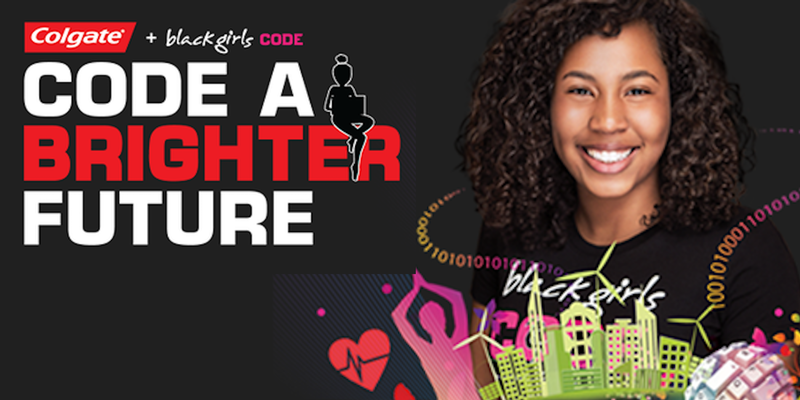 When you picture a promising future, what do you see? What changes do you envision in your community? How is your day-to-day life improved? What challenges do you anticipate we'll experience with our environment or wildlife? What would you build to make the future you foresee a reality? Use your imagination to create a mobile app that paves the way for a brighter future.
What is a hackathon?
A hackathon is an event designed to bring groups of people together as they work collaboratively to solve a wide-array of problems through computer programming. Black Girls CODE youth hackathons are education focused and allow students to work in teams with experienced mentors over a weekend building apps and tools.
This hackathon will provide each Tech Diva with the opportunity to take part in a three-day youth focused hackathon that encourages creativity and teamwork. Ladies will learn how to design and build apps, concluding the weekend with team presentations and solution demos live on stage!
Who can participate in the hackathon?
The Code a Brighter Future Hackathon is open to girls, grade 6 – 12, of all experience levels. Previous computer camps and STEM exposure are great, but young ladies new to coding and app development are welcomed and encouraged to register as well!
Inviting Tech Divas fitting into the following categories to register today:
Girls of all experience levels
Girls entering 6th through 12th grade next year
Girls who are interested in computer science, STEM, mobile applications, and gaming
What's the schedule?
Friday, September 22nd: 6:00pm – 9:00pm (registration begins at 5:00pm) – Galvanize, 44 Tehama Street, SF, Ca
Saturday, Sepetmber 23rd: 9:00am – 6:00pm (registration begins at 8:00am ) – Galvanize, 44 Tehama Street, SF, CA
Sunday, September 24th: 9:00am – 6:00pm (registration begins at 8:00am ) – Galvanize, 44 Tehama Street, SF, CA
Related posts: